X-Ray Fluorescence Spectrometer: Panalytical Epsilon 3
The benchtop energy dispersive X-ray fluorescence spectrometer is used on bulk samples to quantify elements from sodium to uranium from ppm levels to 100%. The Omnian software allows for wt% quantification without the need of a standard.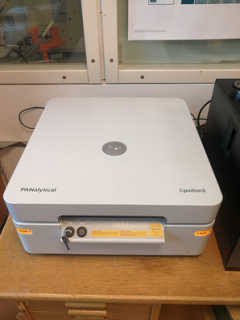 Capabilities/Accessories
Samples can range from powders, fused beads, metals, pellets, films and liquids

The automatic sample exchanger can accommodate up to 10 samples

Sample spinner

X-ray tube power: max 9 W, max 30 kV, max 1 mA

Sample weight: max 200 g

Sample size: max 4.9 x 20 x 10 cm (H x W x D)

6 Tube filters: Cu 300 μm, Cu 500 μm, Al 50 μm, Al 200 μm, Ti 7 μm, Ag 100 μm

Detector resolution < 145 eV @ 5.9 keV/1000 cps
Recharge Rates
MMK users:
100 SEK/h (no operator assistance)
200 SEK/h (operator assistance)
External academic users:
200 SEK/h (no operator assistance)
400 SEK/h (operator assistance)
Commercial users:
675 SEK /h (1000 kr with operator assistance)
Commercial users can also request assistance with evaluation of data at the rate of 1375 SEK / h.
Fee for training:
MMK users 250 SEK/h, external academic users 500 SEK/h, commercial users 1000 SEK/h.
Time unit: per hour
Last updated: August 2, 2021
Source: MMK