Facilities
The Department of Materials and Environmental Chemistry (MMK) has a strong tradition and broad expertise in the characterization of materials.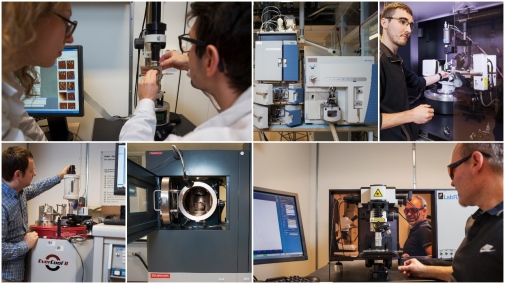 Accordingly, MMK hosts a large variety of equipment and instrumentation (acquired with substantial support from the Knut and Alice Wallenberg Foundation and the Swedish Research Council (VR) for analyzing structural and physical properties of materials.
Most instrumentation is organized in centers. The The Electron Microscopy Center (EMC) administers and maintains transmission and scanning electron microscopes. The The Materials Analysis Center at Arrhenius Laboratory (MACAL) supervises X-Ray diffractometers, spectrometers, and equipment for materials property characterization. Further MMK possesses a NMR and a mass spectrometry lab, and is host of the national spark plasma sintering (SPS) facility. Apart from maintaining research equipment at the highest level of operation, instrument centers take also responsibility in the training of users and ensure that equipment is also available to other researchers at Stockholm University, as well as external users.
Last updated: November 4, 2020
Source: MMK